On that
subject

...
in
This barn loom was donated in memory of Flora... MORE
The Potsdam Public Museum has recently received a... MORE
On Sunday April 14th more than 50 enthusiastic... MORE
Members of the Crane Harp Ensemble, under the... MORE
Tuesday, March 19th at Noon - Jane... MORE
The Museum lost a real Friend of the museum on... MORE
Potsdam Pee Wee Hockey Team1966-67, with Coach... MORE
Unusual Paper Dolls!The Potsdam Antique Study... MORE
MAPLE SUGAR SEASON!This may be our earliest image... MORE
Betty Weeks (center) with friends Mary Theisen... MORE
Remembering Betty Weeks- she passed way one year... MORE
The staff at the Potsdam Museum has taken great... MORE
January is collections care and inventory month... MORE
December 4 through the 13th Guided School tours... MORE
The 2012 Sandstone Festival was a great success.... MORE
POTSDAM SANDSTONE... MORE
Potsdam High School Mega Reunion August 10,... MORE
Visit the museum booth at the summer festival... MORE
The Friends of the Museum annual meeting and... MORE
Dorothy Gordanier wanted the museum to have this... MORE
The Cecilie Garden is located in Lehman Park,... MORE
Area Fourth Grader teachers are encouraged to... MORE
This Tri-corner hat is made of felted beaver and... MORE
Museum intern, Courtney Doyle, who will be... MORE
This image taken round 1895 shows a group of... MORE
SPINNING DEMONSTRATION- On Saturday, Feb 18 from... MORE
Sunday- January 29 at 2pmThe St. Lawrence County... MORE
The museum has been conducting inventory this... MORE
On a snowy January morning a group of volunteers... MORE
Members of Clarkson's Phi Kappa Sigma Fraternity... MORE
Louis White (1923-2011) was a long time resident... MORE
Twenty-five members of the Onondaga Hill Antiques... MORE
In 1940, Frank and Harriet Burnapdonated a... MORE
The Friends of the Museum, funded a trip for the... MORE
On a warm August night in 1889, Barnum and Bailey... MORE
... MORE
POTSDAM SUMMER FESTIVAL !Many thanks to all the... MORE
THE COVER-UP: Coverlets, Looms and Spinning... MORE
The public is invited to attend the annual... MORE
This image was taken on the Racquette River near... MORE
MAYOR DECLARES STATE OF EMERGENCY IN POTSDAM2pm... MORE
THURSDAY MAY 5TH7 PMNorth Country Heritage... MORE
FRIENDSHIP QUILTc. 1880-90Diamond PatternMade by... MORE
Dorothy Gordanier who reached 100 years of age in... MORE
ICE COLD POTSDAM- A history of Ice Skating, Ice... MORE
ADIRONDACK ICE: Slide show and Book Signing by... MORE
William Beebe, local artist will feature RECENT... MORE
On Saturday February 12, 2011 Peter Dart of... MORE
Potsdam High School Jazz Band with director... MORE
Gary Grahling and his wife Diane (Dewey)... MORE
For the young and the young at heart, there is a... MORE
Wednesday, September 15th 7 PM SOAR presents... MORE
Wednesday, February 1, 2012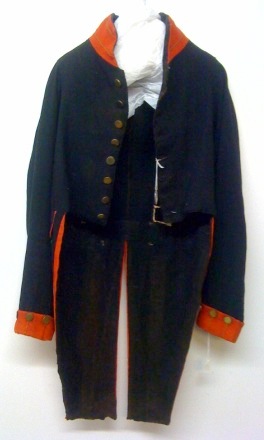 Brought to light during the January inventory of the collection:

Now on display is a War of 1812 coat, donated in 1953, that belonged to the donors great-great grandfather, Shubel Clark of Canton, NY. According to the donors information, from the Library of Congress and a historian at Fort Ticonderoga. Shubel Clark was drafted on June 8, 1812 and served as a private in a company of Detached Militia at Ogdensburg, NY.

Recently museum curator, Mimi Van Deusen and intern, Courtney Doyle took the coat to Albany to be authenticated by Historian Joe Thatcher. Thatcher is a <!—————[if gte mso 9]————>
retired Supervising Curator, Bureau of Historic Sites, New York State Office of Parks, Recreation and Historic Preservation, Albany and a Fellow of the Company of Military Historians, Past National President and holder of the Company's Distinguished Service Award.

Mr. Thatcher identified the uniform to be that of an officer as evidenced by the gold twist on the false button-holes, collar and cuffs. The wool used to make the coat is of a "super-fine" quality and likely to be English as the wool produced in the states at the time was a lesser weave and available in the colors drab, gray, black and brown. Brass buttons, such as these, were used on artillery uniforms.

Anyone wishing to add to our research of this uniform, Potsdam and the War of 1812 or Shubel Clark (also spelled Sheubel Clark) is welcome to send documented information to the museum by email to: museum @vi.potsdam.ny.us or postal service at: Potsdam Public Museum, P.O. Box 5168, Potsdam, NY 13676.

Thank you.






Technorati Tags:
[where: ]