News
Tuesday, Jul. 29th, 2014
STEP RIGHT UP!
Come see the Greatest Toy Show in Potsdam!
On view through Saturday are dozens of dolls, Barbies and Ken, Shirley Temple, Ragetty Ann and Andy, a 1950's metal doll house, toy trains, Tonka trucks, a 1930's fire engine, a wild West Collection with Dale Evans and Roy Rogers, Rin Tin Tin, Davey Crocket, Tonto, vintage games, Etch-A-Sketch, Twister, Erector Set, Fisher Price, Popeye, and much much more!!!!!




NEW EXHIBIT OF HISTORIC POTSDAM POSTCARDS OPENS

A new exhibition of historic Potsdam postcards has opened at the Potsdam Museum. This outstanding collection was donated to the museum in March 2014 by Marcia Wing of Norwood and depicts a wide variety of views. Perhaps the most unusual and rare cards are Potsdam advertising cards. One depicts a house on Elm Street, which was "heated by an Imperial Steam Boiler, installed by Irish and Jebo, 29-31 Water Street". Another portrays the candidate for Lieutenant Governor of New York State in 1908 of the Independent Party, Dr. Daniel W. Finnimore, who was a resident of Potsdam. There are also a number of interesting aerial pho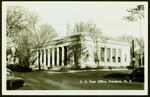 tographic postcard views of Potsdam, taken by the outstanding photographer Dwight Church of Canton in the late 1940's and early 1950's. Other postcards include a variety of street scenes, buildings suc
h
as the old Central Fire Station, a postcard view of the "Great (Ice) Storm of March 27, 1913", views o
f "Clarkson Memorial School of Technology" the "State Normal School", "Crane Normal Institute of Music
" and many more. This exhibit will be on display at the Museum through the end of September.


NOTE: "Mouse-over" the postcard image to view details, and click to view a larger frame of the image.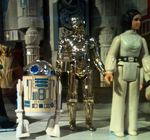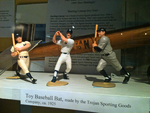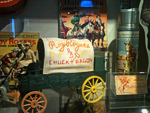 TOYLAND - "One Hundred Years of Toys" is currently on exhibit at the Potsdam Museum. It consists of games, dolls, horses, firetrucks, comics, a tricycle, children's sewing machines, trains, Fisher-Price toys, Barbies, and teddy bears. The exhibit will be up through August 2, 2014.