News
Thursday, Apr. 17th, 2014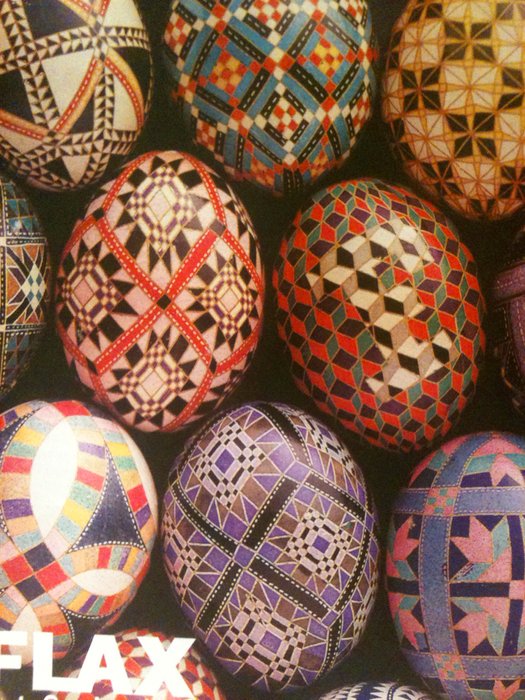 The Potsdam Public Museum is very pleased to announce that Radmila Zuman of Potsdam has generously lent quite a few beautiful, decorated Easter Eggs from Eastern Europe from her... MORE
TOYLAND - A CENTURY OF FUN!
Brush up on your childhood ! Warning: Will Rogers...This exhibit will feature Toys from your childhood and include Fisher-Price Play Family Farm, pull toys from the 1950s and 60s, Barbie Dolls, Shirley Temple Dolls, rocking horses, tin toys, robots, space ships, little books, comic books, a Roy Rogers Collection, western wear for kids from the 1950s and 60s just to name a few...
EASTER POSTCARDS NOW ON DISPLAY ! ! !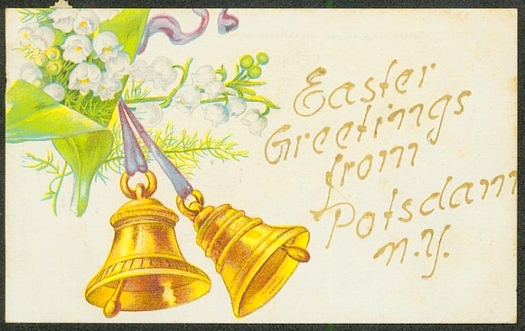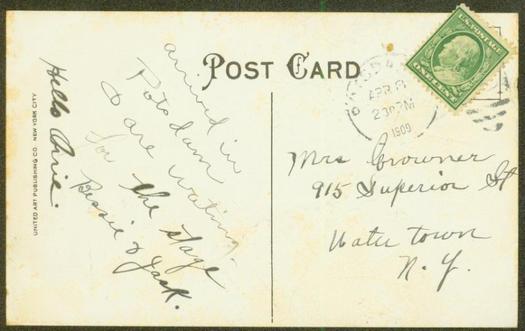 The Easter greeting postcards shown in this exhibition represent many of the major artists and companies that produced postcards during the "Postcard Craze" era that lasted from 1905 to 1915. This was a period during which millions of postcards were produced and sent at all holiday occasions. Judging by the number of surviving postcards, it is clear that Easter was the second most popular of all holidays for the sending of cards, after only Christmas. The outbreak of World War I largely brought a halt to the sending of postcards as most of the outstanding printers of postcards were German.

All of the traditional Eater motifs, such as Easter bunnies, Peter Rabbit, Easter eggs, chicks, lambs, spring flowers and more are depicted. Perhaps the most humorous card shows a "bunny band" in which rabbits are playing everything from a drum to trumpets to a violin. Some of the postcards were sent to a young Helen Snell Cheel (1904-2005) for whom Cheel Arena on the Clarkson University Campus is named.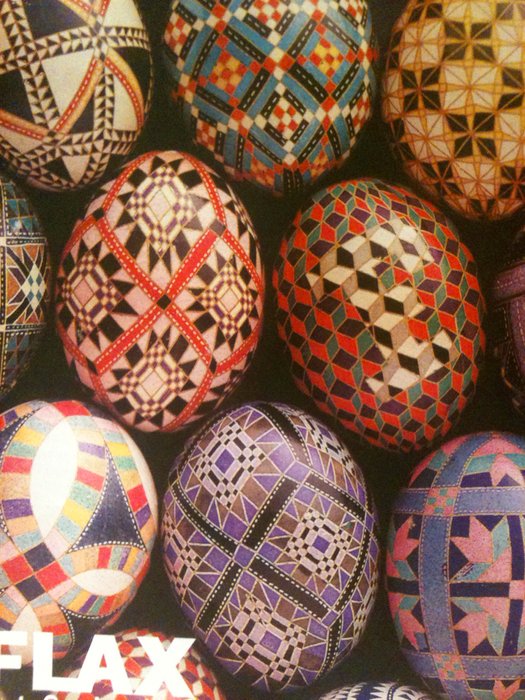 The Potsdam Public Museum is very pleased to announce that Radmila Zuman of Potsdam has generously lent quite a few beautiful, decorated Easter Eggs from Eastern Europe from her personal collection. These very colorful eggs have been placed in the museum's new Easter Postcard exhibit which opened recently.
Eggs have been the symbol of spring since Pagan times and were later viewed in Christian times as a symbol of life, fertility, resurrection and the return of bright, sunny days.
Blown-out eggs were decorated in festive, beautiful traditional patterns to be kept for good luck; young girls would give them as gifts to their lovers, and would be treasured for years. Colors had specific meanings in Eastern Europe, as follows: white - purity; black - remembrance; blue - good health; red - life, love, & resurrection; yellow - spirituality; orange - pleasing attraction; purple - power; and green - prosperity. Examples are shown in the enclosed attachment.
Various patterns on the eggs indicated different symbolism, all of which are explained in the new exhibition, which runs from now through June 1st.