News
Thursday, Feb. 15th, 2018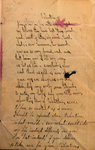 ... MORE
FEBRUARY 2018 -
OPEN WED. to FRIDAY, 10 -4

(Downloadable / Searchable PDF format)
HISTORY OF CLARKSON UNIVERSITY
AND
THE CLARKSON FAMILY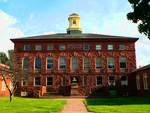 Left: 'Old Main' Clarkson University's first building, c. 1896. Clarkson
University opened as , "The Thomas S. Clarkson Memorial School of Technology. It was started in honor of Thomas S. Clarkson
(1837-1894)
by his sisters Elizabeth, Frederica, and Lavinia Clarkson along with his niece Annie Clarkson. Thomas died at age 58 in a quarry accident.
St. Lawrence Academy to SUNY Potsdam: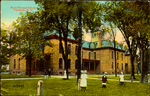 Right: The State Normal School was built in 1867 across from the Civic Center on Park Street, Potsdam. www.shoess.ru It was constructed of Potsdam Red Sandstone. In 1917 it was torn down and replaced with a new building which stands there today.
RESEARCHERS: If you are traveling here to do research-please call ahead and make an appointment so the staff can locate the information you seek.
2 Park Street, Civic Center, Potsdam, NY 13676
Sometimes a family file contains just one obituary from a newspaper, other files may contain dozens of folders, personal letters, etc...