News
Monday, May. 20th, 2013

VICTORIAN BRIDES Exhibit
June through October 2013
Opens Sunday June 23, 2013
2 pm
The Friends of the Museum
annual meeting
Strawberry Shortcake and punch
will be served by the Friends
Public... MORE
The Potsdam Public Museum was founded in 1940 and is a local history museum with an extensive public archive.

We offer research for genealogy and Potsdam history, the
first

1/2

hour is free, $ 15/hr thereafter. Look on the
"Archives and Library" tab on y
our left, for a complete
list of family names.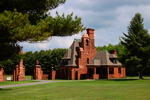 SANDSTONE INTERACTIVE MAP ! NEW* NEW* NEW*
CLICK HERE to connect to our Sandstone Heritage Map. Follow the timeline and watch the industry grow through the mid-nineteenth century. This Google Map lets you choose the structures you want to investigate. See vintage and current images, in depth, cited, scholarly research. Many links to sources.
Please share ANY and ALL information you may have that we can site on the map. Primary sources of information used are; old newspapers, diaries, legal documents, old records, and oral history as well. Share your ideas about the map. Email or call us at: museum@vi.potsdam.ny.us or (315)-265-6910

TRAVELING THROUGH POSTCARDS: A display featuring 32 historic postcards from 25 different nations from Japan to Iceland to Panama to Hungary.
This new exhibit features postcards donated by a variety of individuals which were acquired on various trips abroad. The postcards date between 1910 and 1935.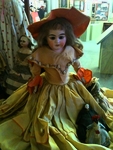 Our current exhibitions include: VICTORIAN STYLE, featuring period fashions, dolls, silver, accessories, games, toys and a Victorian parlor. On display are gadgets such as hand-cranked coffee mills, a cast iron apple peeler, kerosine lamps, meat choppers and a fluting iron to put pleats into ones stylish collars and cuffs. There are beaver top hats, button-up shoes, silver handled canes, and a collection of wreaths and jewelry made of human hair!