News
Tuesday, Mar. 4th, 2014
Ada Larkin Powers Victorian wedding dress detail:



The Powers familywill be visiting the museum on Saturday to see the wedding dresses of... MORE
TOYLAND - A CENTURY OF FUN!
Brush up on your childhood ! Warning: Will Rogers...This exhibit will feature Toys from your childhood and include Fisher-Price Play Family Farm, pull toys from the 1950s and 60s, Barbie Dolls, Shirley Temple Dolls, rocking horses, tin toys, robots, space ships, little books, comic books, a Roy Rogers Collection, western wear for kids from the 1950s and 60s just to name a few...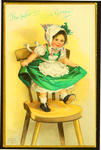 These three St. Patrick's Day postcards are from the Snell Postcard collection of the Potsdam Public Museum. They were sent to young Helen Snell of Potsdam around 1910 during the height of the international "Postcard Craze" from 1905 to 1915 when just about everyone sent postcards to everyone else, even if they were only traveling a short distance. Helen Snell later became Helen Cheel for whom Cheel Arena at Clarkson University is named.

These postcards are intended to "whet your appetite" for our upcoming Easter Postcard exhibit which will be opening in our postcard case at the Museum on April 5, 2014.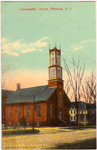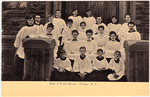 A new exhibit of antique postcards is on display. It is entitled "Churches of Potsdam - Historic Postcards" and includes examples from the museum's extensive collection of Potsdam Postcards and several on loan from the collection of Fred H. Rollins and curated by Mr. Rollins.
(Click on Images to enlarge in a new window)